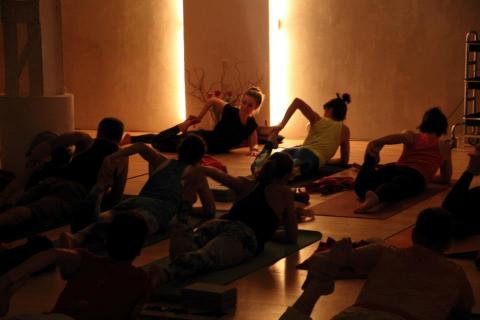 13 Nov

Yoga Beat Berlin

Yoga Beat is a dynamic and music driven form of Yoga, infusing a sacred practice with electronic rhythms designed to develop strength, core stability, power and flexibility within a fun and liberating Yoga experience.
————————–————————–—
– All levels welcome
– 90 minute class (please arrive from 20:00, introduction from 20:15, Yoga Beat sequence 20.30, relaxation and meditation 21.30)
– Price 17.00€ (cash only)
————————–————————–—
Yoga Beat is a practice to let go of the inhibitions, to get loose in the musical rhythms and to perceive oneself: the body, the breathing, the heartbeat, the sensations, the feelings and emotions – every part of the practice is a flow, without any judgment, without any obstacle.

EXPERIENCE: this introduction to Yoga Beat is a practice for any level of expertise, whether you are looking for an alternative and fun first Yoga encounter, or an experienced practitioner who wants to approach the Vinyasa Yoga sequences with an overwhelming and liberating rhythm.

ABOUT THE TEACHER: Silvia Paonessa is a certified Yoga teacher, dancer and actor. In discovering Yoga Beat's unique form, Silvia fused these disciplines with her three passions: dance, yoga and great music.